EXPLORE EPIC OF BHUTAN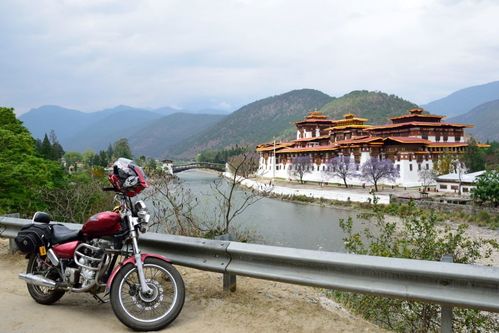 Quick Enquiry
---
Our neighboring country Bhutan is blessed with stunning natural landscapes and is full of happiness. Also it is the only carbon negative country in the world. You can enjoy the amazing Himalayan landscape, where snow-capped peaks rise above shadowy valleys hidden in dense forests. Bhutan is the country who believes on the philosophy of Gross National Happiness.
Itinerary Highlights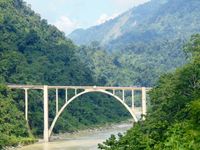 1
ARRIVAL AT BAGDOGRA / NJP & DRIVE TO PHUENTSHOLING (Apporx. 180 KM)
Meet & greet on arrival at Jalpaiguri Railway station / Bagdogra Airport. Drive and entry permit process. Check in Hotel . Overnight Stay in Pheuntsholing.
Amenities
DELUXE HOTEL

TWIN OCCUPANCY

ALL MEAL

DINNER

LUNCH

BREAKFAST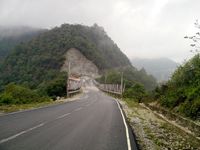 2
PHUENTSHOLING TO THIMPHU (Apporx. 150 KM)
After Breakfast, PHUENTSHOLING Check out get the permit done and drive to Thimphu via the wonderful mystic town Gedu, which is about 9000 ft above the sea and Chukha Dam. On the way visit Crocodile Park, Kharbondi Gumpha, Wankha waterfalls and halt at Chojum to take photographs of confluence of two rivers of Bhutan, Thimphu Chu and Paro Chu. Reach Thimphu in the evening. Overnight in Thimphu.
Amenities
DELUXE HOTEL

TWIN OCCUPANCY

ALL MEAL

DINNER

LUNCH

BREAKFAST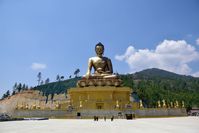 3
TIMPHU SIGHTSEEING (Apporx. 50 KM)
Thimphu, perhaps the most unusual capital city in the world, is the seat of government. This bustling town is home to Bhutan's royal family.
After breakfast we will move for Thimphu sightseeing. you will visit Changangkha Lhakhang, Bhutan Takin Preserve, Folk Heritage Museum, Zoring Chusum, Tashichho Dzong, Buddha Dordenma Point.
Changangkha Lhakhang: This popular temple, perched like a fortress on a ridge above central Thimphu, hums with pilgrim activity. It was established in the 12th century
Takin: The National Animal of Bhutan, Takin are related to sheep and weigh up 650 kgs. According to the local folktale, the Devine Madman, DrukpaKunley, created the Takin by joining the goat's head in the body of the Cow. This interesting animal is an endangered species found only in few pockets of the Himalayas.
Folk Heritage Museum: One of the oldest house in Thimphu was converted in the Folk Heritage Museum in 2001 to give an insight into the traditional lifestyle of the Bhutanese forefathers. It is like entering a traditional Bhutanese home in, say, 150 years back.

Institute of Zoring Chusum: Its is an Art and Crafts Centre of Bhutan. This institute provides opportunities for vocational training on the Bhutanese Arts and Crafts. We can witness the students training and gives an idea to the visitors on the traditional form of the Arts and crafts.
Tashichho Dzong: the main secretariat building which houses the throne room of His Majesty, the King. Tashichhodzong is also the summer residence of the Je Khenpo (Chief Abbot)
Buddha Dordenma, which is one of the largest Buddha statue in the World at 169 feet. The body of the Buddha is filled with 1,25,000 smaller statues of Buddha. The view of the Thimphu valley is spectacular from this point. Overnight at Thimphu.
Amenities
DELUXE HOTEL

TWIN OCCUPANCY

ALL MEAL

DINNER

LUNCH

BREAKFAST



4
THIMPHU TO PUNAKHA (Apporx. 90 KM)
After breakfast, drive up to Dochu-la pass
In 2003, Bhutan chased the Indian rebels, hiding in Bhutan in the eastern border, out of the country with a minimal loss to the Bhutan army. Some wanted to erect a monument for the victory, but the King replied that war should never be glorified. So instead he commissioned this monument honoring the dead soldiers and the dead rebels from the conflict.The 108 stupas is a memorial built then. The 108 beautiful Chortens is built by Her Majesty Ashi Dorji Wangmo Wangchuck. The Dochula Pass an altitude of about 3100 m is the places where this memorial is built. Set admist the fluttering prayer flags, it is a visitor's delight to spend some time here.

After this wonderful visit, we will take the downhill drive towards Punakha.
After your lunch, it is time to take a beautiful hike on the paddy fields towards Chimi Lhakhang, the temple of the Devine Mad Man called Drukpa Kuenley. We can take a picturised and leisurely walk through the paddy field, no steep climb here, just easy walk in the paddy field. The return journey takes about an hour and a half or two.

Further drive to Punakha, we will visit Punakha Dzong, the most beautiful Dzong in Bhutan built in 1637 by Shabdrung, the spiritual and temporal ruler of Bhutan prior to the present dynasty. It is an old capital, which still serves as the winter residence of the monk body. The first King, Ugyen Wangchuck, was crowned here in 1907. It is now the winter residence of the Central Monastic Community and administrative headquarters of Punakha district.
Next we will see one of the longest suspension bridge in Bhutan, spanning 350m and perched high above the very swift river of Po Chhu. Draped with prayer flags, the bridge connects the town of Punakha and the Punakha Dzong, mainly used by locals from the other side of the town as a shortcut to Punakha Dzong. Overnight at the hotel.
Amenities
DELUXE HOTEL

TWIN OCCUPANCY

ALL MEAL

DINNER

LUNCH

BREAKFAST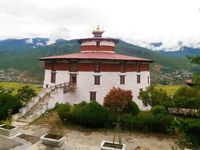 5
PUNAKHA TO PARO (Apporx. 130 KM)
After breakfast drive to Paro and visit Kyichu Lhakhang, one of the oldest and most sacred shrines of the country, built in the 7th century by the Tibetan king, Songtsen Gampo.
Ta Dzong originally built as Watchtower, which now houses National Museum. The extensive collection includes antique thangkha paintings, textiles, weapons & armour, household objects and a rich assortment of natural and historic artifacts. Then walk down the trail to visit Rinpung Dzong, meaning ("fortress of the heap of jewels"), which has a long and fascinating history. Along the wooden galleries lining the inner courtyard are fine wall paintings illustrating Buddhist lore such as four friends, the old man of long life, the wheel of life, scenes from the life of Milarepa, Mount. Sumeru and other cosmic Mandala. Evening free for shopping, overnight stay at Paro.
Amenities
DELUXE HOTEL

TWIN OCCUPANCY

ALL MEAL

DINNER

LUNCH

BREAKFAST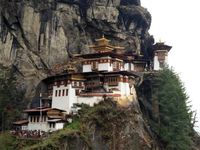 6
PARO SIGHTSEEING (Apporx. 50 KM)
After breakfast visit Taktsang Monastery. This most famous of Bhutan's monasteries is spectacularly perched on the side of a cliff 900m above the Paro valley floor. Taktsang is a place of pilgrimage which Bhutanese try to visit at least once in a lifetime. It is said that in the 8th century Guru Rinpoche flew on the back of a tigress from eastern Bhutan to this place and meditated in a cave here for 3 months, hence its name, "Tiger's Nest". This trek is very hard but offers great experience. After trek back to hotel & relax. Overnight stay in Paro.
Amenities
ALL MEAL

DINNER

LUNCH

BREAKFAST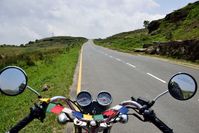 7
PARO TO PHUENTSHOLING (Apporx. 150 KM)
After breakfast retrace back to Phuentsholing. Upon arrival check in at the hotel. Rest of the time at leisure. Overnight at the hotel.
Amenities
DELUXE HOTEL

TWIN OCCUPANCY

ALL MEAL

DINNER

LUNCH

BREAKFAST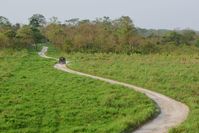 8
PHUENTSHOLING TO BAGDOGRA AIRPORT / NJP RAILWAY STATION (Apporx. 180 KM)
After Breakfast, check out and drop to NJP Station/IXB Airport for your onward Journey.
Amenities
Accommodation for 7 night's on twin sharing basis
All Meals
Non A/C transport. Vehicle will be provided as per number of pax. Type of vehicle is mentioned in above under Vehicle Particular point.
Government Permits
Tour Leader
Accommodation at Bagdogra or Jalpaiguri on Day 8
Personal Expenses, Optional Tours, Extra Meals and Drinks (Mineral Water, Aerated Drinks)
Tips, Insurance, Laundry, Phone Calls, etc.
Airfare, Train fare, Insurance Premium, etc.
Optional Tours & Sightseeing entry fee.
Payment for service provided on a personal basis
Expenses incurred due to mishaps, landslide, strike, political unrest etc. In such case extra will be charged as per actual.
Anything not specifically mentioned under the prices include
.NOTE: ITERNARY CAN CHANGE DUE TO UNAVOIDABLE CIRCUMSTANCES BEYOND OUR CONTROL
TYREMARK will not be responsible for any type of injuries caused during an expedition. Including an accidental death.

Alcohol consumption is strictly prohibited during an expedition.

TYREMARK has full rights to change or alter the expedition subject to the conditions.

TYREMARK has the right to cancel the tour if the total number of bookings are below our prescribed minimum operating capacity. In such case 100% your advance payment would be refunded within 10 working days.

Cost incidental to any change in the itinerary/stay on account of flight cancellation due to bad weather, ill health, roadblocks and/or any factors beyond our control.
INR 35,500
INR 30,500
Signature
8D / 7N
Limited Seats
Departure : 21 May 2019