WINTER SPITI - AN UNTOLD THRILL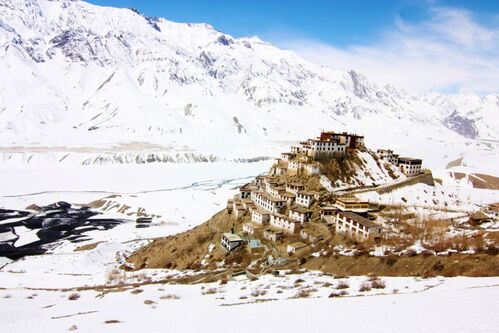 Quick Enquiry
---
Spiti in winter is a beautiful white canvas. Witness the winter where the craggy mountains, deep valleys, deserted land-forms and green landscapes are entirely transformed in a seamless sheet of snow. A remote village of Spiti valley - Kibber is a hotspot for Snow Leopards. Winter Spiti Tour offers you peace and adventure at a same time. Explore the wondrous beauty, capture the wildlife and of course majestic Snow Leopards, mingle with the locals, experience delicious Tibetan & local cuisine and lead the life on challenging routes.
Tour Batches: 12th - 18th Feb'22 I 12th - 18th Mar'22 Duration: 6N/7D
Itinerary Highlights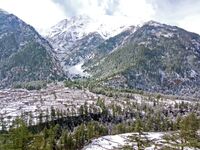 1
Arrival at Chandigarh & transfer to Rampur / Sainj
Reach Chandigarh. Get to the pre-decided meeting point in the city. Thereafter we drive to our destination of the day Sainj/Rampur .
Sainj becomes a perfect stop to stay today, as per tomorrow's long journey into Spiti valley.
Stay @ Bisht Regency or Similar, Rampur/Sainj
Amenities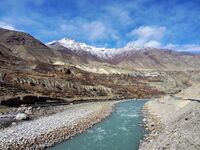 We start early and drive towards Kinnaur valley. Today we enter the region of the Trans-Himalayas. You will experience a change in topography and landscape from forested belt to rocky and barren mountain and also a major change in the temperature. Driving along the Satluj and Spiti rivers , we enter Spiti valley aka The World within a World.
Stay @ Traditional/Local Home, Gue
Amenities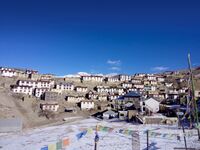 3
Gue - Tabo - Dhankar - Kaza - Kibber - Chicham
After a traditional morning meal , we will visit Gyu Monastery. Then drive to Tabo. Visit the oldest Monastery of the valley and one of the oldest in the country 'Tabo Chos-Khor Monastery' - which is also known as Ajintha-Ellora of Himalaya. After a brief visit, we also explore the famous meditation caves in the village. Thereafter we drive to Dhangkar Gompa , situated on a cliff . Dhang-kar means Cliff-Fort. After experiencing this amazing Monastery, we drive to Kaza. After spending some time in Kaza, we head to our Snow Leopard sighting destination of the day, Chicham/Kibber.
Stay @ Cottage or similar, Chicham/Kibber
(Important Note: Meanwhile we are busy with visiting places in Spiti, our trackers would have started the job of tracking the Snow Leopard today, so we have high chances of spotting the Ghost Cat, once we start our photo tour tomorrow)
Amenities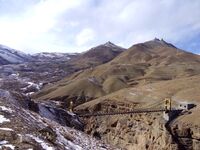 4
Chicham: Snow leopard trail
Today's the D-Day ! In the early hours, our trackers will head out to identified spots, to track 'The Ghost Cat'. Once the Snow Leopard is sighted, our team at the base will be informed, on which we head out with our guide and porters to the defined spot to meet up with our trackers and hopefully to get some good photo shots of the elusive and rarely sighted beautiful animal. Stay @ The Nomad's Cottage or similar, Chicham/Kibber
Amenities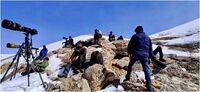 5
Chicham: Snow leopard trail
Snow Leopard sighting day ! (as on day 4)
Stay @ Cottage or similar, Chicham/Kibber
Amenities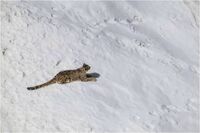 6
Chicham - Kaza - Nako - Rampur/Sainj
We start early today . Crossing the rocky terrain of Kinnaur, we head back to the Forest Belt of Shimla District and Check Into our Luxury stay of the day.
Stay @ Bisht Regency or Similar, Rampur/Sainj
Amenities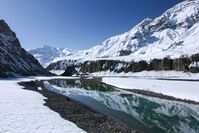 7
Rampur/Sainj to Chandigarh airport
After breakfast, we drop you back to Chandigarh airport/ hotel. (no accommodation)
(You will reach Chandigarh by evening, so please plan your departure/flight back accordingly)
Amenities
Cab/TT Chandigarh to Chandigarh (includes all it's MSC. expense)
Stay on Double / Triple basis , with attached / non attached washroom, with hot bucket water
All meals starting from Day 1 Dinner to Day 7 Breakfast
Trackers for 2 days (SL sighting)
Porters for 2 days (SL sighting - to carry camera equipment)
Guide for 2 days (SL sighting)
Full 2 days of SL sighting
Wildlife Permit & Community Council fee
BSNL & Jio Mobile / WLL phone to call home
Oxygen Cylinder & Basic First Aid Kit at the property and in the field during travel & sighting
Veg / Non-Veg food preference
Foldable Stools & Mats to rest in the field during sighting
Collapsible tent to rest in the field
Hot water bags in the rooms
Living Room with electric heater or wood/hot stove
Bottled water during the journey and in the field
Cab to take you to/near the sighting spot
Walking Pole
Tour Marshal/Escort from Chandigarh to Chandigarh
Personal expense of any type
Accommodation at Chandigarh on day 7
Cost incurred due to change in itinerary due to bad weather, road closure/block, heavy snowfall, factors beyond control.
Any medical, travel, evacuation insurance
Other than basic first aid, any medical emergency expense has to be borne by the guest
Emergency travel
Any and Everything NOT mentioned in the 'Inclusions'
TYREMARK will not be responsible for any type of injuries caused during an expedition. Including an accidental death.

It would be the participants own responsibility to adhere to the Indian Road Traffic Rules & Guidelines.

Alcohol consumption is strictly prohibited during an expedition.

TYREMARK has full rights to change or alter the expedition subject to the conditions.

Iternary can change due to unavoidable circumstances beyond our control

TYREMARK has the right to cancel the tour if the total number of bookings are below our prescribed minimum operating capacity. In such case 100% your advance payment would be refunded within 10 working days.
Signature
7D / 6N
Limited Seats
Departure : 12 Mar 2022