FROZEN RIVER (CHADAR) TREK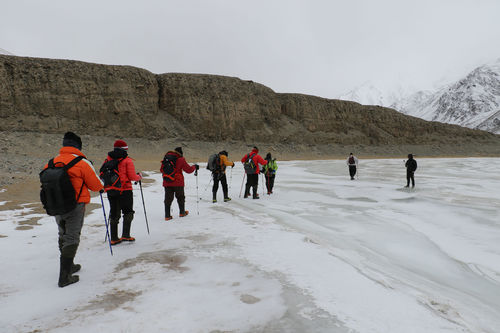 Quick Enquiry
---
Ladakh has always captivated visitors with its magical charm and beauty. Nestled deep within the whirly passages of the snow-clad mountains, this frozen river trek (Chadar) entices thousands of trekkers from different corners of the world. So, start packing the adventurer in you and register yourself at the earliest.
Itinerary Highlights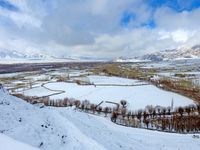 You get the entire day to acclimatize. Small acclimatization walk to Leh Market. Overnight at Leh in guest house.
(NO MEALS)
Amenities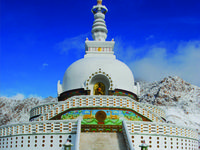 Altitude 11,400 ft
Acclimatization walk to Leh Market & acclimatization trek to Shanti Stupa. Overnight at Leh.
(NO MEALS)
Amenities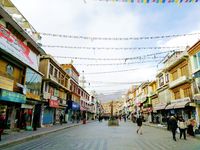 3
MANDATORY MEDICAL CHECK-UP
Today, you need to prove yourself medically fit by the Govt. appointed doctors as per new Govt. regulation. No trekker is allowed to participate the trek if he/she is declared medically unfit by the appointed doctors. Overnight at Leh.
(NO MEALS)
Amenities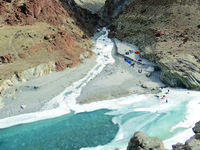 4
DRIVE TO CHILLING & TREK TO SHINGRA KOMA
Drive distance & Travel time(approx.): 75 KM, 3 HRS
Trek Distance & Duration (approx.): 8 KM, 7 hrs.
Altitude 11,400 to 10,390 ft.
In the morning we leave by private vehicles with our support staff to begin this amazing and most exciting winter trek. Shortly after leaving Leh, we reach Nimu, the confluence of Zanskar and Indus rivers. The sight is amazing as the iced up and frozen Zanskar meets the fast flowing Indus. A mandatory stop for photos. We then drive down from Nimu following the track parallel to the frozen Zanskar River. A drive towards the road head beside the frozen river is another amazing experience. Travel distance between Leh and Chilling is around 64 KM. We reach the point, past the village of Chilling to where the road head ends. Touching the Chadar first time, we start the trek for approx 6 hrs along the magnificent frozen river Zanskar till Shingra Koma. Overnight stay at Shingra Koma in Tents.
(INCLUDES LUNCH & DINNER)
Amenities
TWIN OCCUPANCY

BASIC TENT STAY

DINNER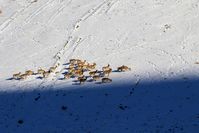 Trek Distance & Duration (approx.): 15 KM, 7-8 hrs. trek
Altitude 10,550 - 10,760 ft
This will be our 2nd day on Chadar. After early morning breakfast, we will start our trek Tibb. We might even catch sight of bharals / blue sheep as we trek along the frozen river. We will pass through some magnificent beautiful waterfalls and frozen ice cliffs. Overnight stay at Tibb in Tent.
(INCLUDES BREAKFAST, LUNCH & DINNER)
Amenities
TWIN OCCUPANCY

BASIC TENT STAY

DINNER

LUNCH

BREAKFAST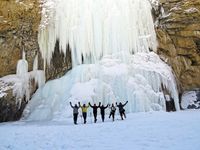 Trek Distance & Duration (approx.): 12.5 KM, 6-7 hrs Trek
Altitude 10,760 - 11,150 ft
One more magnificent days on the Chadar trek. We will pass through giant frozen waterfalls, ice cliffs and one may even catch sight of the Mountain Fox. After lunch we pass the 'Incense Tree', called so, because the locals use its branches to burn, and the prayer flag draped tree, marks the entrance to Zanskar valley. The porters will normally take a few twigs from the tree. We reach Nerak Campsite by late afternoon. Overnight stay at Nerak in Tent.
(INCLUDES BREAKFAST, LUNCH & DINNER)
Amenities
TWIN OCCUPANCY

BASIC TENT STAY

DINNER

LUNCH

BREAKFAST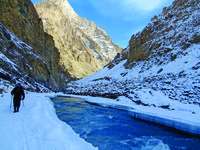 7
TREK FROM NERAK TO TIBB
After breakfast proceed for trek to Tibb. Though technically it is the same way back, it is also quite different. The Chadar or the blanket of ice that is forming on the River Zanskar is always changing, breaking up and forming itself again. As the Chadar dynamics are ever changing, the same route and place would look and feel different as the texture and conditions change. Night stay at Tibb in Tent.
(INCLUDES BREAKFAST, LUNCH & DINNER)
Amenities
BASIC TENT STAY

DINNER

LUNCH

BREAKFAST

TWIN OCCUPANCY
8
TREK TO SHINGRA KOMA & BACK TO LEH
After breakfast we will again start our return journey by trekking to Shingra Koma and drive back to Leh by road. On arrival at Leh, you shall be transferred to hotel. Night stay at Leh.
(NO MEALS)
Amenities
DELUXE HOTEL

LUNCH

BREAKFAST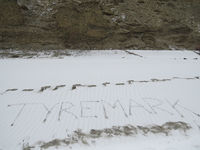 Departure from Leh with adventurous memories.
Amenities
Tent accommodation on TWIN SHARING basis on Chadar Trek route on Day 4, 5, 6 & 7 with sleeping bag arrangements (SLEEPING MAT, 2 SLEEPING BAGS OF -20 TEMP EACH)
Experienced Tour guide for frozen river trek, Cooks & helpers on trek route.
Crampons for each participant for the trek.
Transportation by non A/C Tempo traveler:
1) Day 2 & 3 : From hotel to practice trek location, medical camp location and back to hotel.
2) Day 4: From Leh to Trekking Point & Day 7: Trekking Point to Leh.
All veg. meals on Chadar:- From Lunch on Day 4 till evening snacks on Day 8.
Porters for carrying common equipments (like rations/tents/utensils/groceries)
Basic First aid Kit.
Facility of keeping extra luggage at Leh when leaving for trek.
Common Kitchen/Dining/Toilet tents will be used during the trek.
Any accommodation or meals in Leh is not included. (As per package selection)
Mandatory High Altitude adventure expedition Insurance, Environmental tax, ALTOA permits, Forest permits & Wildlife fees (cost around Rs. 4000/-)
Any meals in Leh ( Day 1, 2 & 3 - All meals, Day 4 & 7- Breakfast; Day 8 - Dinner)
Airport Pickup & drop at Leh.
Porters for personal sack up to 10 kg (Approx Rs.700-900/- per person per day: Rs.900 X 4 Days = Rs.3600 - 4000/-)
Any kind of personal expenses or optional tours.
Any Domestic & International flight charges
Personal trekking equipment (trekking poles, Gum Boots, sleeping bag liners etc)
Tips, Insurance, Laundry, Phone Calls, Camera charges
Any kind of drinks e.g. Aerated, packaged juices, etc.
Cost incidental to any change in the itinerary/stay on account of flight cancellation due to bad weather, ill health, roadblocks and/or any factors beyond control.
Bonfire charges during the trek
Optional activities
Cost of transport, meals and stay if in case you leave the trek in between and return to Leh
before the schedule arrival on Day 7
Anything not specifically mentioned under the 'package includes'.
GST 5% & Goods and Services Taxes 5% , Indian Government Taxes
TYREMARK will not be responsible for any type of injuries caused during a trek. Including an accidental death.

Alcohol consumption is strictly prohibited during an expedition.

TYREMARK has full rights to change or alter the expedition subject to the conditions.

TYREMARK has the right to cancel the tour if the total number of bookings are below our prescribed minimum operating capacity. In such case 100% your advance payment would be refunded within 10 working days.
Signature
9D / 8N
Limited Seats
Departure : 09 Jan 2021